Today we're going to find out what the $300,000 price range can buy you here in Spokane, Washington. Specifically, right here in the Perry District on the lower South Hill. We're going to check out three houses, walk around this awesome neighborhood a little bit, and check out some of the cool features it has. So stick around and let's check it out.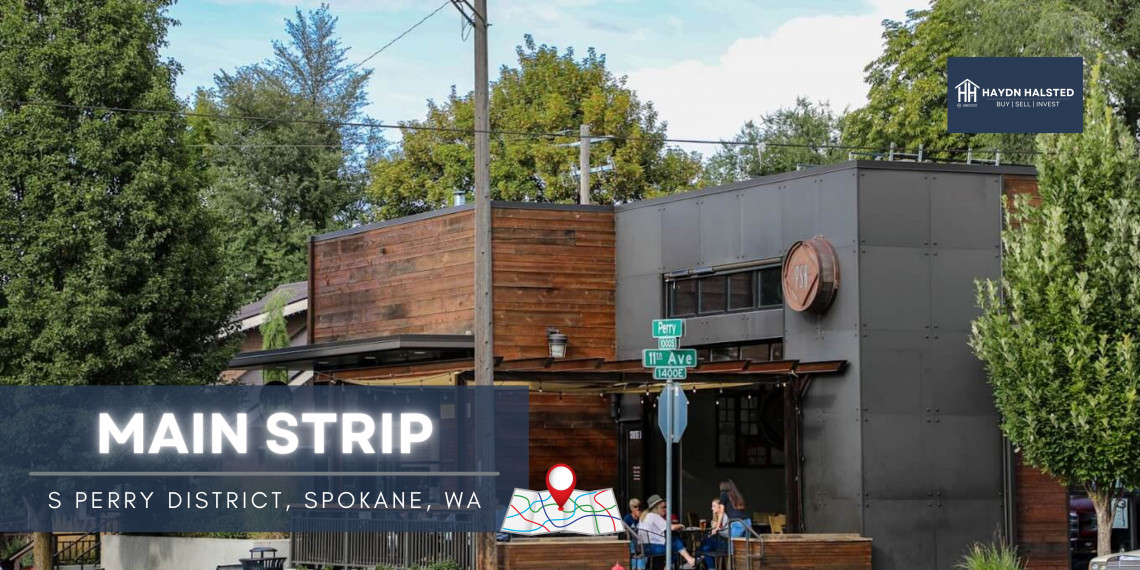 Here in Perry District, we have tons of shops and restaurants, a couple of shops, a couple of second-hand stores, boutiques, all that type of stuff. there's just a ton of cool features in the Perry District, a ton of mom-and-pop small businesses that you get to take advantage of by just being walking distance from most spots. In this neighborhood, we typically see some fairly older houses. It's one of the oldest neighborhoods in Spokane. And so a lot of houses were built in the 1900s. You'll see anywhere from 1905 up to the 1940's.
But we have a lot of really cool Craftsman-style homes, a lot of homes that have been updated over time. And as this neighborhood has become more and more popular and more people have moved into it, they just started doing more work to the houses and making things a lot cleaner.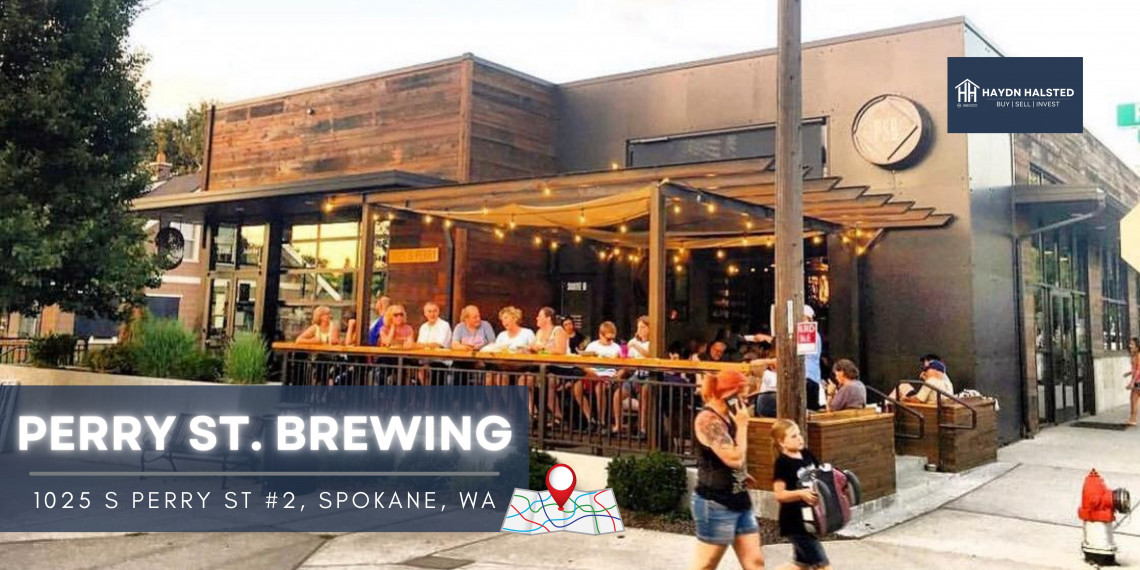 Opened in March 2014, Perry Street Brewing's kitchen serves daily and the menu offers locally-focused fare, kid-friendly options, and rotating Market Sheet specials. The brewery boasts a large, airy taproom featuring reclaimed metal and wood, as well as a dog-friendly, sunny patio for taking in the action on Perry Street. Open Tuesdays through Sundays, all ages welcome. Check out their website here: https://www.perrystreetbrewing.com/
Grant Park sits in the newly revitalized Perry Street District on the lower South Hill. This park is unique in that it was originally designed to be a playfield, originally called the U. S. Grant Playground. It was 2.97 acres and like many of the other playgrounds in Spokane was built next to a school, Grant Elementary.
Opened in 2009 , the South Perry Lantern is one of six establishments under the Tangen Hospitality umbrella here in Spokane. To learn more about what they offer, click here:
Casper Fre is a rustic-chic bar & eatery providing a modern menu of Southern-inspired, locally sourced comfort food. See their menu here:
South Perry Pizza is a hip, industrial-chic spot with outdoor tables serving hand-tossed pizza, local beers & wine. See what they offer here: https://southperrypizzaspokane.com/
There's just a ton of cool features of this little area. And even though we're focusing on the $300,000 to $400,000 price range, today houses can go all the way up to a million just within a few blocks of here. And so there's really anything that you like being in this location. There are houses for almost anybody.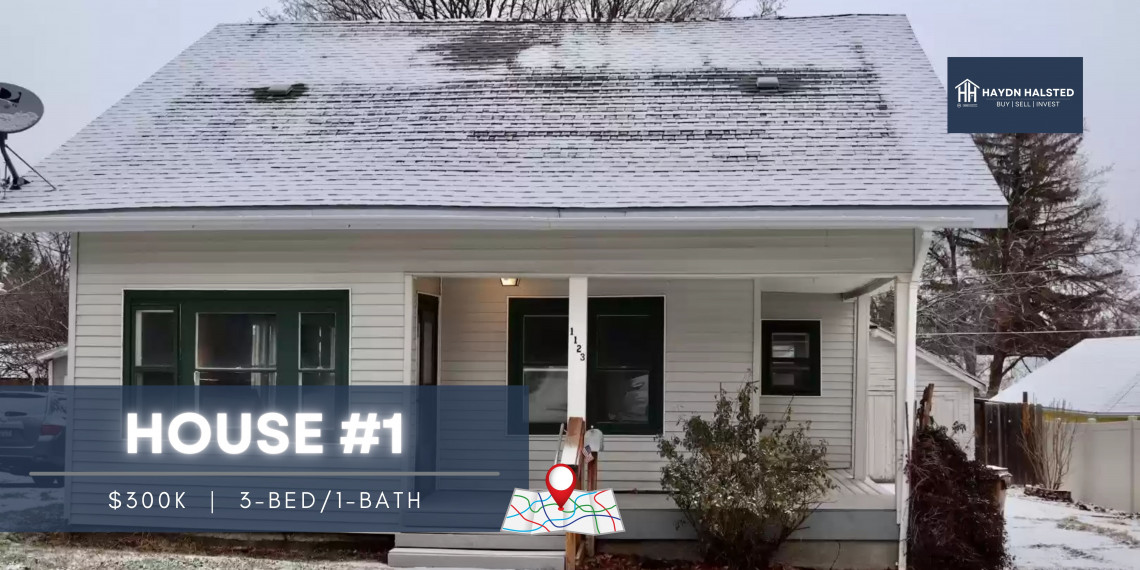 house #1 - $300,000
It's a three bed, one bath house, newly flipped, it was just recently remodeled. So you got kind of your LVP flooring, your Gray paint, but everything has been updated for the most part. You can see it's two floors right there. There's two bedrooms upstairs, but it's pretty solid sized house, about 1847 sq. ft., which puts it at about $162 per square foot. Like I was saying earlier, the houses in this area are early 1900 for the most part.
This one is actually built with rock foundation, which are common around here, but many of them have been kind of finished off with concrete on the outside to kind of stabilize the house. It's fairly common to experience houses that have gone through a lot of settling in this area, and especially these houses that were built in the early 1900. So kind of slanted floors and creaky floors are pretty common. And I've kind of noticed some recent out of town buyers kind of point that out in a lot of the houses that we're looking at, one, how old they are, and then two, that a lot of houses have gone through significant settling.
And so if you're somebody that is from maybe the Arizona area or California, where a lot of their housing was built later on and that we haven't quite experienced that yet. Give those areas 20, 30, 50 more years, and they'll all have settled by then as well. But as you can see, houses in this neighborhood all have that kind of similar character, similar Craftsman style. So there's a lot to choose from. And every house is just a little bit different.
You got a red and Orange house right there. You got a green and white one right here. And so everybody there's no HOAs or anything like that. So everybody has their own unique way of fixing up their house and making it unique to them. So that is our first house that was at the bottom of the budget, $300,000.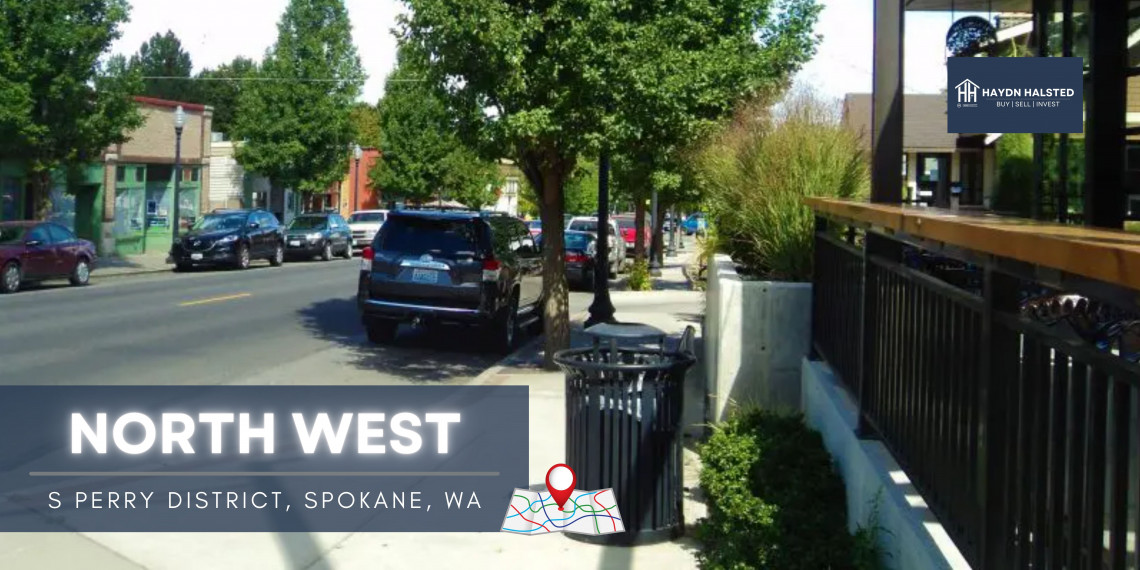 The northwest side of the Perry district has had a lot of growth in terms of rental opportunities. There's been a ton of new apartments being built. There's also some condos and duplex around. The rental market here is very tough. Right now, we're at 1% vacancy. The rental market usually lags the real estate residential market by about a year. And so all the craziness that we've been experiencing in the residential market is catching up in the rental market.
There's some new apartments and some condos and those are going for about in the mid $400,000 right now. And then this is actually just like a community of people that live together, that live and work, live in like a circular community where they grow food together, eat food together, spend time with their families together. So kind of a co-op community that is fairly new to Spokane.
I know that's more popular in other places like Portland, but this is one of the first ones. And it makes total sense that it's in the Perry district because that's just exactly the type of thing that this neighborhood would invite. So just kind of a cool little community where they all cohabitate.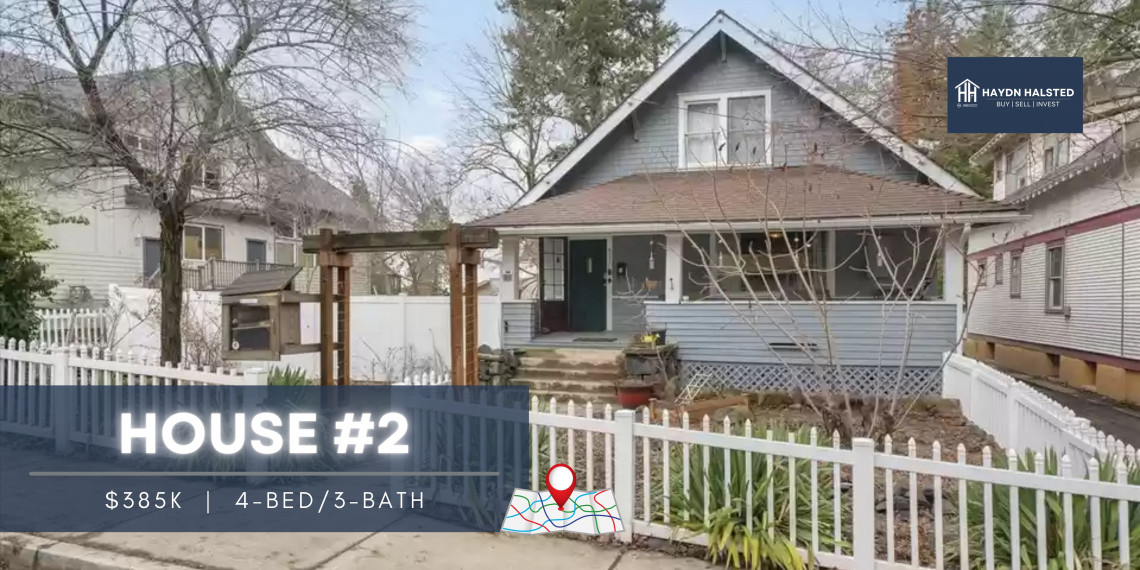 House #2 - $385,000
This is a four bedroom, three bath house. It's listed as being about over 3300 sq. ft. But they're counting the unfinished basement in that. So it's more like 2200 sq. ft. So that puts us at about $173 per square foot. And I wanted to bring that up because I've heard this from some other out of state clients, that were really concerned about price per square foot in an appraising price per square foot is a factor for sure.
But I feel like square footage is something that here in Spokane is not taken to an account like that strictly. I feel like I've heard from other Realtors and other places that they're going in there and measuring with every single room and double checking that it's correct. And for the most part, that's just not something we totally do here in Spokane County and Spokane Real Estate. And a lot of times people want to look at the square footage that's on the county record. But the county record might think that the house is only 1000 sq. ft. because the main floor was probably the only thing that was finished at one point.
And then they did the upstairs attic. And if the county never knew about that or anything, then there's no way that that would have been updated over time. That's just something to think about when you're looking at homes that don't get too caught up on the price per square foot, because it's actually not that crazy important when you're trying to compare house to house.
Never Miss a Blog Post
We post new, helpful content geared at answering your questions about selling or buying a home. Enter your email below and never miss a new blog post!
We respect your inbox. We only send interesting and relevant emails.
There are two restaurants there that you should absolutely check out. One is Wisconsin Burger, which just has super awesome burgers that put cheese curds on everything. It's amazing. And then the other one is the Grain Shed. They do so many things. They have like pizza nights that are amazing. They make amazing bread. Coffee is awesome. And if you want to go spend a bunch of money on the best avocado toast, then go and get some avocado toast there.
Wisconsin Burger is a woodsy-chic eatery with a patio featuring specialty burgers, a vast beer selection & growler fills. . To learn more about their place visit their website here:

Wisconsinburger is a locally owned Spokane restaurant inspired by the mom-and-pop burger s...
The Grain Shed offers a variety of choices for visitors and locals. Their products range from bread and pastries to exceptionally good-tasting beer. Learn more about them here:
We're a brewery & bakery in Spokane's South Perry district bringing neighbors to...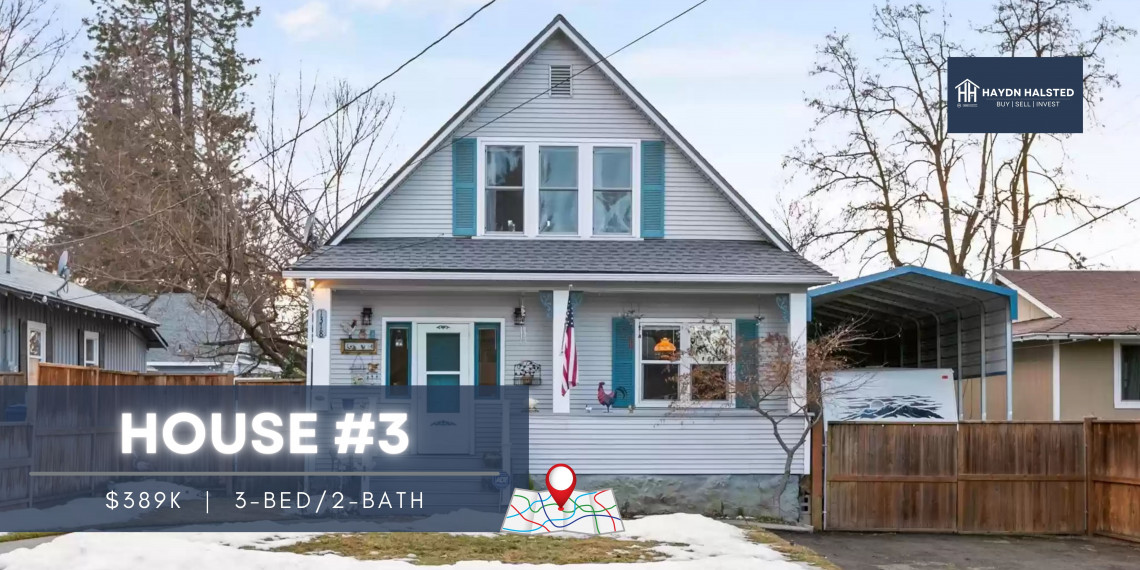 house #3 - $389,000
Is a three bed, two bath, house, also build in 1905. It had about 1400 sq. ft. floor area and it is almost the same price as the other one. And so as we get a little bit more south here in Perry District, the prices tend to go up just a little bit price per square foot. I'm imagining that they must not be counting something because that's a big jump for the square footage. But it has some nice updates and everything. So that puts the price per square foot over $300 per square foot in this neighborhood.
This section of the Perry district, though, was not really developed as much until the 1970s. You can see a lot more split levels in this area and our kind of older craftsman. There's one right there. This area portion of the Perry District wasn't as developed over time.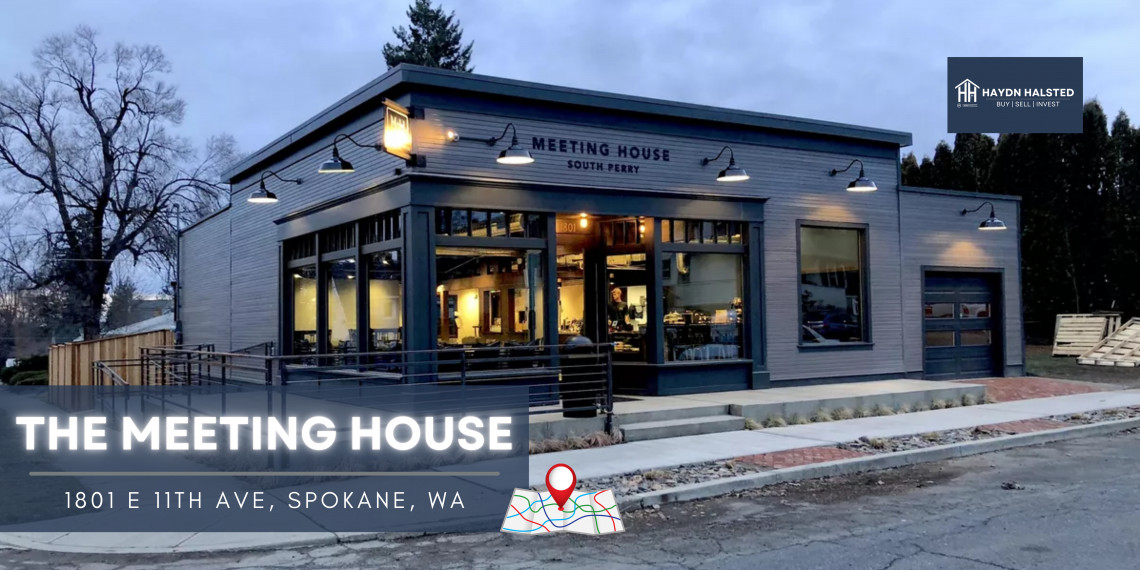 If you go down, there's another great coffee shop called the Meeting House. They're fairly new opened up during the pandemic and they have some killer coffee. If you have a group of people that like to meet on a regular basis you have a conference room that's awesome to have some meetings in and get out of the office and everything.
CONCLUSION
So there's a ton of cool features for if you're shopping in that $300 to $400,000 price range it's very competitive to get into this neighborhood in that price range just because there are so many amenities around here between restaurants, coffee, shopping, and we're just so close to downtown that it makes everything life just really convenient living in this neighborhood. Definitely be ready for some competition.
Ready to Take the Next Step?
If you wanna visit or feel like moving in here, I'll be more than happy to assist you.
Click Here